Sustainable and cultural tourism activities "En Pot Petit"
1 01Europe/Madrid April 01Europe/Madrid 2022

-

30 30Europe/Madrid June 30Europe/Madrid 2022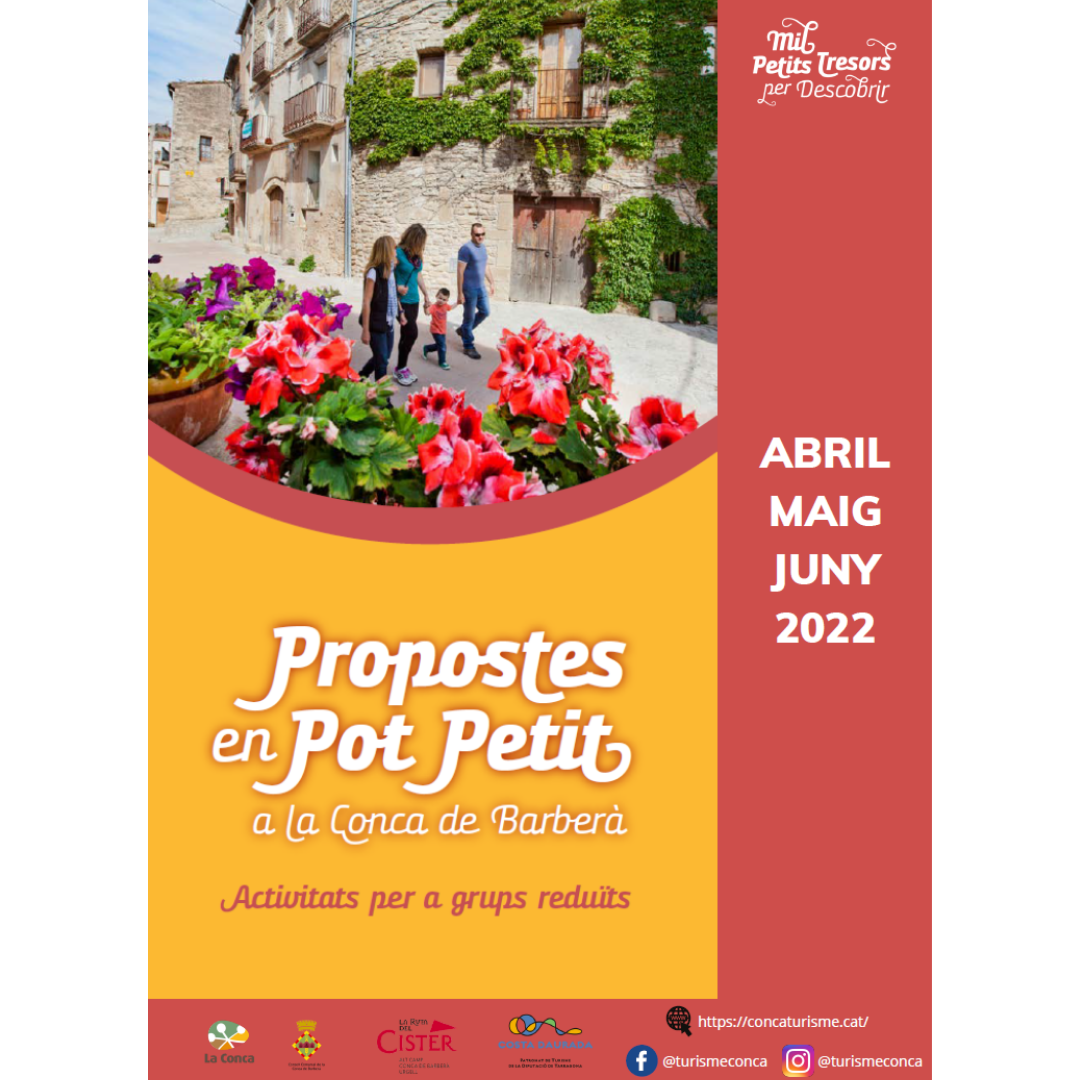 DOWNLOAD THE ACTIVITIES OF APRIL in catalan
DOWNLOAD THE ACTIVITIES OF THE MONTH OF MAY in catalan
DOWNLOAD THE ACTIVITIES OF THE MONTH OF JUNE in catalan
This year you can already plan your stay in the Conca de Barberà in advance with a series of activities for small groups and for all tastes, the Pot Petit Proposals.
The new catalog of "En Pot Petit" presents 33 proposals for all audiences 
There are 10 more activities than in the first quarter.
The Tourism Service of the Conca de Barberà County Council renews its catalog of proposals "En Pot Petit" with a total of 33 activities for this second quarter of the year (April, May and June) 10 more than last quarter .
Among the new proposals and focused on spring, there are those dedicated to discovering the flora of the forest through hiking trails such as "The walk of the orchids", in the ravine of La Pena and Flowers, landscape and health ", in Vilaverd and the improvement of the quality of life with the "Itinerary of well-being and silence" which is focused on enjoying the silence and activating the senses and emotions in the natural setting of Poblet.
Family activities have also been prepared, such as "Discover Poblet as a family", a different visit to the monastery, "Visit to the farm and pony ride around the Serra de Prades Camping" and "the energy of nature", a visit family and participatory in the mills of the town, organized by the Regional Museum of the Conca de Barberà in Montblanc
As for the proposals aimed at the adult public, activities have been prepared such as "Nordic walking" which is a combination of Nordic walking with a professional instructor between vineyards and forests of Sarral, Blancafort and Pira, with a guided wine tasting in a winery, "Landscape, flowers and wine" in Barberà de la Conca, where you can discover flowers and plants with a glass of Trepat at the end and other visits and tastings in wineries.
All proposals are for small groups and must be booked in advance. The new PDF catalog can be found on the county tourist portal www.concaturisme.cat and in the weekly tourist bulletin.
This action has been possible thanks to the joint work between Turisme Conca de Barberà and the entities / companies in the region that program activities and are part of the Sustainable Tourism Network – XatsConca.